Knowledge is increasing within the real estate industry regarding sustainability certification of properties. But there are still many questions. A common question is which systems are available another is which system is recommended and a follow-up question is which systems property owners work with. But perhaps the most common question asked is - How easy is it to get a good grade?
To answer these questions, CBRE have used the statistics published by the organizations behind the systems. The two major organizations and sources used in the analysis are BRE and SGBC.
SGBC also provides information on which properties are certified in the Green Building system. However, these have been excluded from the data as the Green Building, anecdotally, is not as popular as the other systems.
Here are the three most common questions and answers about certification of real estate from our Swedish clients.
1. Which property owners have the most certified buildings in Sweden?
As a property owner or a real estate developer, it is very interesting to have an overview of developments in the market and how competitors are located. From CBREs documentation we can obtain the number of certified buildings per property owner / developer. Here you can see the 10 companies in Sweden with the highest number of certified buildings.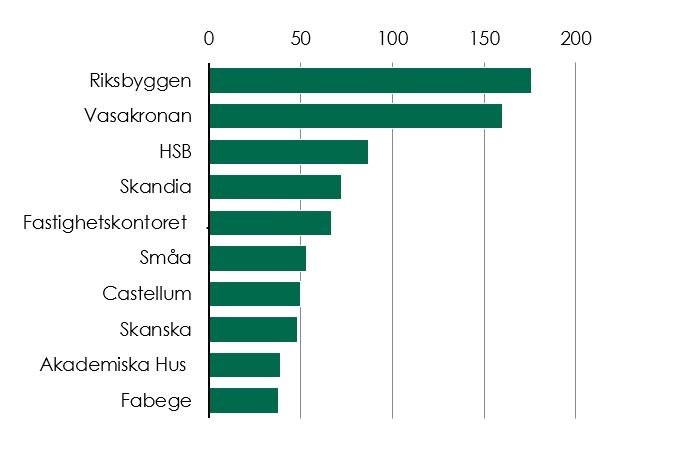 Based on the list, CBRE has compiled some qualitative comments.
Riksbyggen works with Miljöbyggnad in its new production of housing, which contributes to their high volume.
Vasakronan has a large part of its stock certified. In total, Vasakronan owns 174 properties, 159 of which are certified in LEED and one in Environmental Construction. The fact that they have reached the total volume is due to the use of LEED Volume, which uses a concept prototype that is applied to all properties.
Three actors that have almost exclusively used BREEAM for existing buildings (BREEAM In-Use) are the Stockholm City Real Estate Office, Castellum and Fabege.
2. What are the most common certification system?
To assess how the systems are distributed in terms of market share in Sweden, we can extract the number of certificates per system: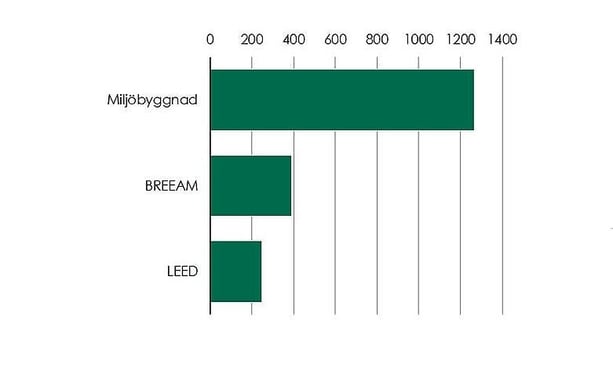 Miljöbyggnad is the most widely used certification system. However, it should be noted that this is probably to a large extent housing. BREEAM comes in second place, which is almost exclusively due to how relatively popular it is for existing buildings. In third place comes LEED.
3. What is the distribution of grades for the different systems?
Now we come to the question that property owners or developers often ask:
"Which system is easiest get high marks in?"
The question can be very relevant for a company that uses green bonds in its financing.
We can see from the documentation that the most used grades per system are Silver (Environment), Gold (LEED) and Good (BREEAM). All grades are in the approximate middle of their respective scales.
If we want to get a more detailed picture, we can develop the distribution of all the different grades per system:
SHARE GRADES BREEAM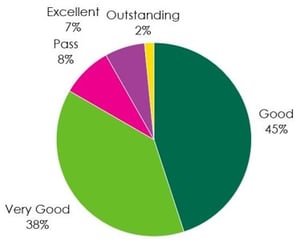 SHARE GRADES MILJÖBYGGNAD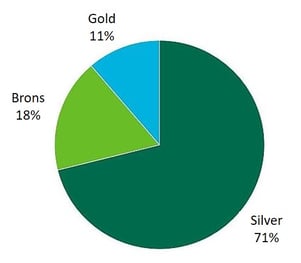 SHARE GRADES LEED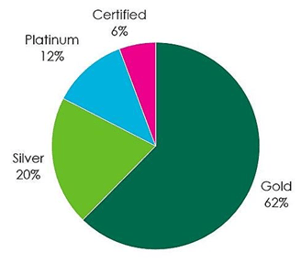 Now we have a clear picture of how the grades are distributed. However, it is important to point out that several factors other than just choice of system affect the likelihood of getting a certain rating. One factor that can clearly influence the distribution is, for example, whether a system is used primarily for new production or existing buildings. As previously stated, for example, BREEAM is mainly used for existing buildings in Sweden and there is a lower possibility of controlling grades than for new production.
Conclusions and further studies
The above analysis is based solely on the data that SGBC and BRE provide publicly hence we are limited in the number of parameters we have access to. With additional parameters, it would be desirable to answer questions such as:
Given a certain type of building and a certain year of construction, is LEED, Environmental Building or BREEAM best suited?
How is the grade affected by the building type, climate shells, and more?
With cluster analysis, can we divide the buildings into subsets, which may be interesting for example in future acquisitions?
CBRE provides a range of sustainability services for both investors, landlords and tenants. Read more here.