CBRE recently published the report Global Outlook 2030 called "The Age of Responsive Real Estate". It covers ten ways you'll experience Real Estate differently in the next decade.
In the Digital Age, people, places and businesses become more interconnected than at any point in human history. Now, patterns of real estate use that have been unchanged for decades are evolving and we are entering the Age of Responsive Real Estate.
Explore the 10 ways real estate will be transformed in the next decade.
The report Global Outlook 2030 covers tre headlines - Work, Live and Invest. Each section makes deep-dives about these headlines.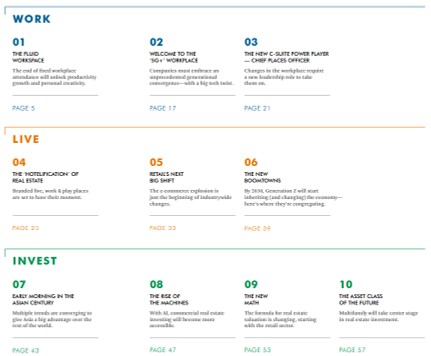 Global Outlook on a Nordic Level
Our Nordics Research Team have looked into the report from their respective country perspective and written a few articles around that. All of them are relevant for all nordic countries. You find them below.
Here you can find an article (in Finish) by our Head of Research in Finland, Jussi Niemistö.
Our Head of Research in Denmark, Dragana Marina, recently published a report "Agile (R)evolution" where she brings up the Global Outlook 2030.
Amanda Welander, CBRE's Head of Research, Sweden & Nordics have written two articles about the Global Outlook report. Part 1 covers Office and Part 2 covers Retail.
Below you can download the report Global Outlook 2030. Please do not hesitate to contact any of the Nordics Research Team members.