Stable Lending Market Conditions Continue
We have seen stable lending market conditions continue for real estate investments in Finland throughout March 2022. Most active lenders in the region are local/Nordic balance sheet lenders, international mortgage banks and investment banks, followed by debt funds and insurance companies.
The most recent indications from key lenders are solid and remain attractive for investors. Liquidity continues to be the strongest in prime assets, including offices, residential, industrial and logistics, and well-performing retail assets. Generally funding costs have been on the rise as a response to increasing inflation, though no significant changes in indicated margins are registered as yet.
Bond Markets

As a sizeable and liquid market, bond markets typically react very quickly to events in the market, especially in the corporate bond market. At the same time, bond markets have also demonstrated strong resilience during the last decade. There are many rated real estate firms both Nordic and European, which use bond markets actively in their funding.

CBRE´s Anne Laukia, Senior Director, Debt & Structured Finance, discusses the bond market conditions with Jani Koivula, Head of Debt Capital Markets, OP Corporate Bank

"What is the current situation in the bond market, Jani?"

"Bond markets are now open also for Investment Grade (IG) -rated corporates, but not operating in the most efficient way as we used to see during the recent years. There has been quite a stable flow of low-risk issuers, examples being government bonds and covered bonds, in the primary market. The primary corporate bond market has been used by solid IG-rated names. iTraxx Europe (IG Corp CDS) index increasing to 87 bps on Friday 11th of March in comparison to 48 bps at year-end 2021.
Tuesday 8th of March was the busiest day in the primary market since the Ukraine crisis started. The market saw issues from BASF (A3/A/A) 2 times EUR1bn, Iberdrola (Baa1/BBB/A-) EUR1bn and Vestas (Baa1)2 times EUR500m.
Market conditions have been improving in recent days and this week (week starting 21st of March) will be clearly the busiest in the new issue market since the start of the war, improving sentiment is highlighted by higher risk instruments, including hybrid bonds by IG rated issuers."

"How would you comment on the outlook, Jani?"

"Tough to estimate, when there are so many moving parts impacting interest rates, inflation, country, and company related risks. Investors are assessing very carefully corporate and issuer specific risks, e.g., energy, and raw material related risks. In some way the bond markets always find its balance The spreads in the secondary markets have risen, which is the base for pricing of new issues."

"Jani, have rated real estate firms issued bonds since 24th of February, and how would you comment on the outlook for this sub-segment?"

"Castellum re-opened the primary market for Nordic real estate bonds on 17th of March after a month's break. Castellum's 3-year EUR500m bond was priced at mid-swap + 155 bps and a coupon of 2.00%. The books totaled at EUR 1.7bn, i.e., a strong over-subscription. Fortunately, many of the key real estate issuers were active in the primary market in January and the beginning of February.
Spreads in the secondary market have increased for Nordic and European real estate issuers since 24th of February. Already during 2021 their pricing was somewhat higher to their corresponding ratings levels since the supply from this industry has been relatively strong. I expect that bond markets will remain as one of the main funding channels for European rated real estate firms in 2022. As tested by Castellum this week, the EUR-denominated primary market is open again and works well for real estate issuers."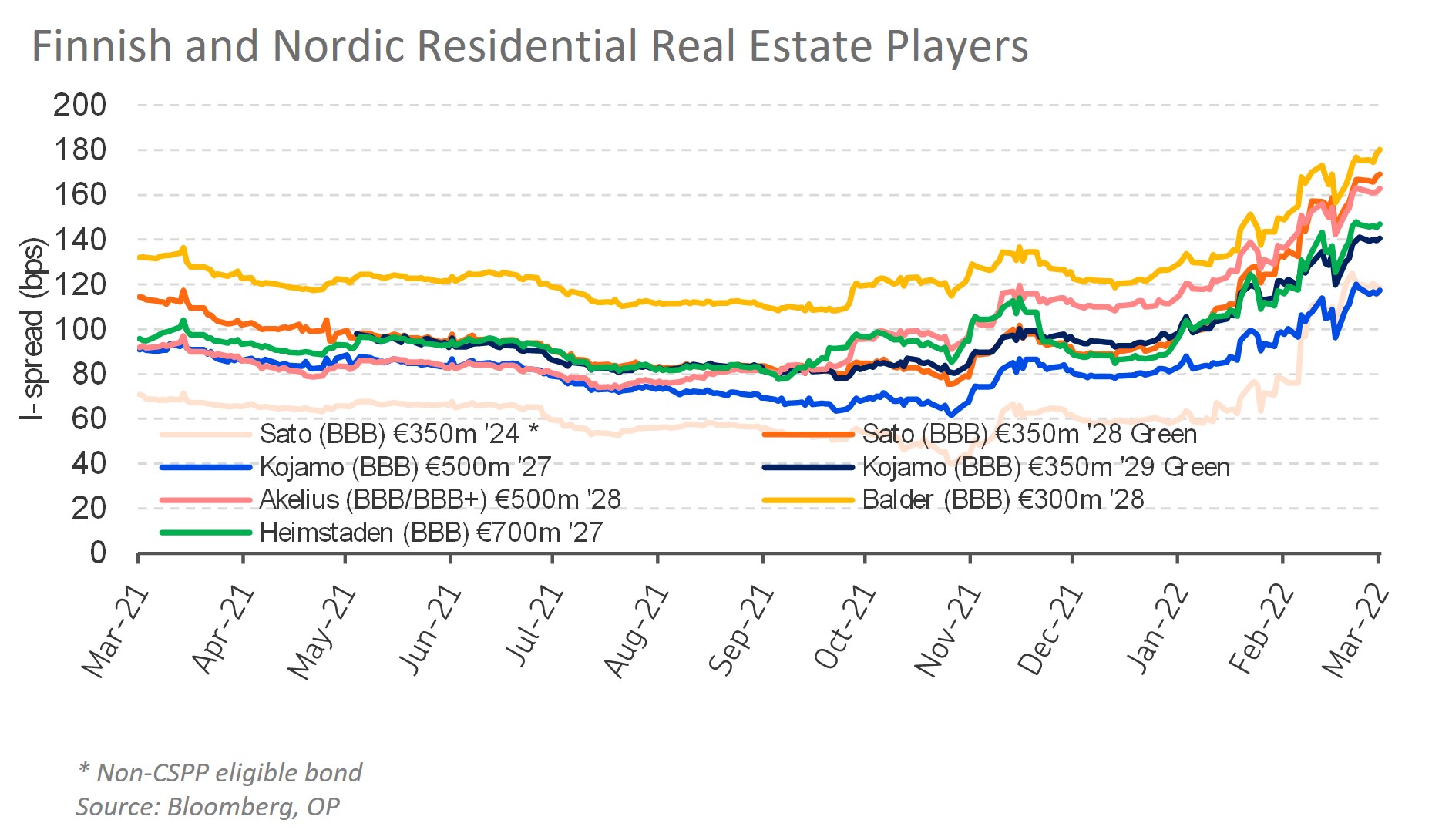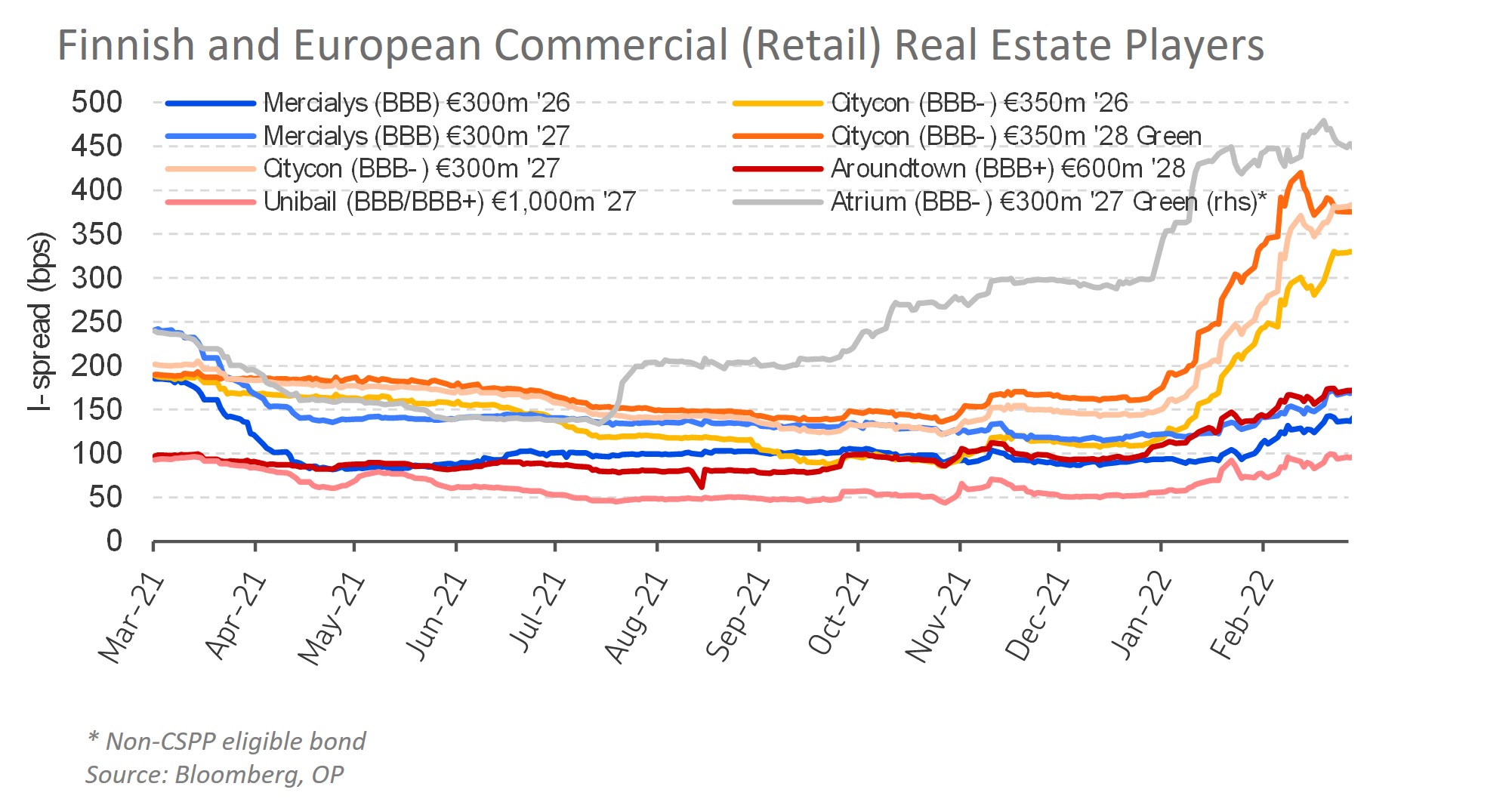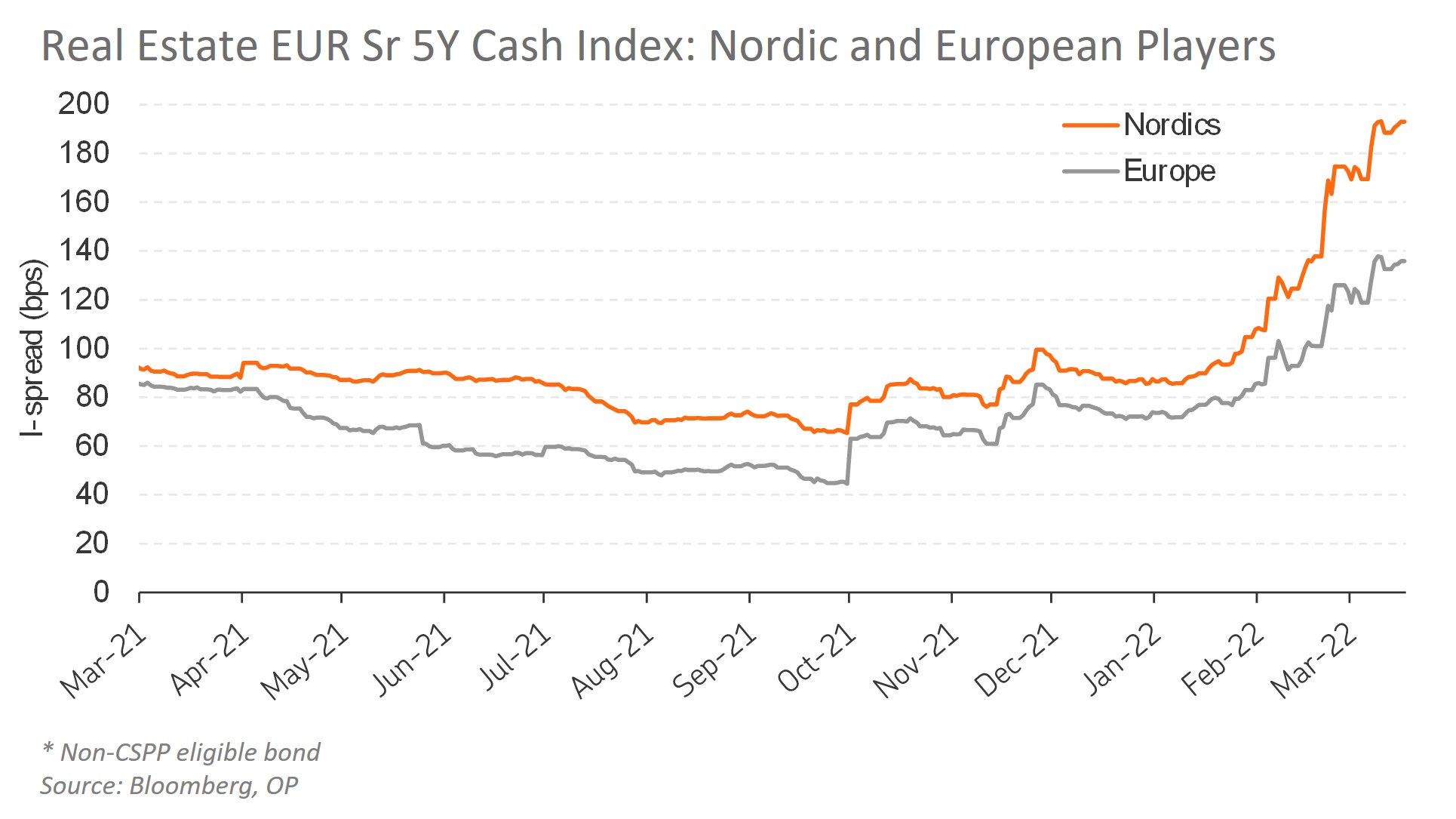 All the insights and charts in this article are based on the situation on 22nd of March 2022.
---
Don´t hesitate to contact Anne, should you need any help with debt & structured finance matters.