Our debt & structured finance expert Anne Laukia and sustainability expert Niklas Wiik share their insights on green financing and green building certifications BREEAM and LEED.
Green financing can increase investor returns and reduce exit risks
An intelligent use of the debt financing always plays a key role in investors' IRR calculations (internal rate of return). Sustainability in the real estate segment is also about debt financing, i.e. if you have a strong enough sustainability assessment for your asset/building, you can possibly get "green financing" from the banks. Green financing can be easier to accessand sometimes pricing of a green loan can be lower than "plain vanilla" debt financing.
Green financing can also increase your company's visibility in the market and support communication about your sustainability goals. It will bring many internal teams and business units together to implement the sustainability strategy, when you are issuing a green bond or arranging a green loan. Sustainable properties might be easier to sell and diminish exit-related risks (timing, price). Sustainability is often analyzed via Environmental, Social and Governance (ESG) strategies of a company.
According to EFFAS*, decade-long academic research find, at least, a non-negative ESG-Corporate Financial Performance (CFP) relation, while many studies suggest that good ESG performance can actually lead to better CFP.
Different kind of green financing products available
In Europe, green financing started after supranationals' green bond issues in 2007 and World Bank, European Investment Bank and Nordic Investment Bank, to name a few, have been playing important role in establishing the market for green bonds. They were followed by wholesale banks, real estate firms and corporates.
The Swedish banks, especially SEB and Handelsbanken, have been forerunners in the market and not only in the Nordics, as SEB was actually kicking off the green bond market globally by acting as a lead manager of World Bank's first ever Green Bond. The bond markets continue to develop; today there are blue bonds, sustainability bonds, SDG bonds (Sustainable Development Goals), etc. And today most banks can create green bond frameworks and arrange green bonds for their clients.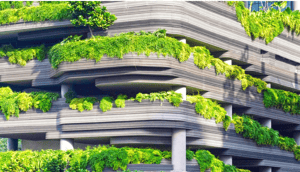 Furthermore, simultaneously the banks' loan originators continue to develop their balance sheet loan products to be used for sustainability purposes of their clients, e.g. green RCFs (revolving credit facilities) are available with tightening pricing structures when certain sustainability-linked targets are met.
Requirements for green financing in real estate
One of the main requirements for green financing in real estate is that you need to have - or you need to get (after the agreed refurbishment work) - an accepted sustainability assessment for your building, e.g. Nordic Investment Bank requires LEED Platinum or BREEAM Excellent certifications. The requirements in terms of accepted certification methods and levels somewhat vary between the banks. Some have set additional requirements on energy consumption level of the building, e.g. c. -15% of the national level. There are different opinions about the sustainability assessments/certifications, but at least for the time being that is the key condition to obtain green financing.
How green building certification logic works
There are several different certification assessments available for properties in the Nordics, e.g. BREEAM, LEED and local systems such as RTS in Finland. Soon, international ones will be introduced here - BREEAM and LEED.
BREEAM and LEED are similar green building certifications with some differences in the credit categories.
The credits are granted across different categories including Location and Transportation; Materials and Resources; Water Efficiency; Energy; and Indoor Environmental Quality. The categories have different emphases and credits are granted based on their potential for greater good. For example, if an action has a big impact on human wellbeing, but only a little environmental impact, it can still generate substantial number of credits.
Some categories are more demanding and challenging than others hence the easiness to gain credits varies. Project teams can select the credits that fit best to their project and help them reach their desired green building certification in the most cost-effective way. For example, the Energy -credits can be obtained from optimizing energy performance, installing energy meters, and using and/or producing renewable energy sources. Then, in the Material and Resources -category the recycling programs are required and promoted, and points can be earned by using products and raw materials from companies that have been third party verified as ecologically sound. Low emitting material use and high quality lighting are an example of credit possibilities in the Indoor Environmental Quality -category.
Conclusion
In new construction projects, the green building certification process should always start right after the decision is made to certify the project. Gather all your relevant stakeholders to discuss timelines, costs and benefits. Involving owners, engineers, architects, contractors, tenants or occupants, and even your banks at the beginning of the process will greatly enhance your chance of success in the certification process.
The certification process for an existing building will follow the same path as in a new construction project, starting with a pre-assessment to make recommendations for implementing changes. This is followed up with the certification process where the relevant documentation is compiled. The certification process will usually take some months if all the required documentation is easily accessible.
---
Need advice on green financing? Don´t hesitate to contact Anne. Would like to know more about green building certifications? Get in touch with Niklas.
---
*) The European Federation of Financial Analysts Societies (EFFAS)