What is the sentiment for office occupiers in the Nordics?
CBRE's Jussi Niemistö, Head of Research in the Nordics, discusses the key trends and insights from the recent CBRE Nordic Office Occupier Sentiment Survey. You can download the full report from the link.
Nordic Office Occupier Sentiment Survey 2023 surveyed the views of 48 office occupiers on:
Return to the office
Future workplace policies
Portfolio optimization
Attitudes to flex office space
Influences on location and building choice decisions
The organizational drivers behind specific policy decisions
Key Findings
#1 - Office return rates are gradually recovering as companies are tightening RTO policies
Nordic occupiers are gradually bringing employees back to the office. This is proving to be challenging as only 13% of the Nordic office occupiers report office attendance rates over 60%. The reasons behind the slower-than-expected return to the office vary between reluctance to commute, vague or evolving mandates, or a preference for remote working among some employees. Nearly half of the companies report 40% or lower office attendance rates, while 41% of Nordic occupiers see their average weekly office attendance between 41% and 60%.
#2 - A growing focus on portfolio optimization
61% of the companies have contracted their footprint over the past three years. Directionally, the same trend looks likely over the coming three years, with a very similar proportion expecting to contract. In our previous Nordic Occupier Survey in 20201 45% of the Nordic office occupiers were expecting to downsize their office portfolios in the future, while this year's survey results show that 62% of the respondents indicate contraction to their office portfolios in the next three years.

The key reasons behind this contracting are hybrid work (90%), inefficiencies in the portfolio pre-dating the pandemic (38%), and cost measures (34%). A mere 27% of companies aim to expand their portfolio footprint in the near term on the back of expected business growth.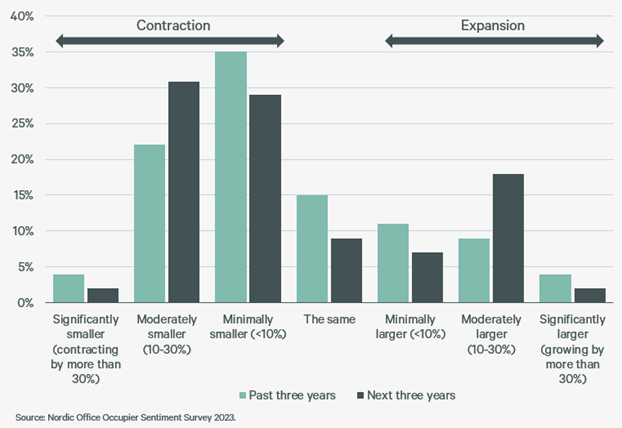 #3 - Sustainability is driving building selection and accessibility, defining the location
Nordic occupiers are in general positive to incorporate green lease clauses (43%), access to shared services (40,5%), and further access to flex space in other buildings within the landlord portfolio (40,5%) to enhance future business. The above trends support general sustainability awareness and office space flexibility trends. Sharing the same office space with another tenant under a traditional lease structure is still not an appealing alternative to the majority of occupiers (5%).
Public transportation access is by some distance the most important factor in selecting a location (80%), and even more important for TMT sector companies (82%). This is followed by on-site food and beverage (66%), and car parking (57%), with either "ease of commute" factors such as electric vehicle (EV) charging points (55%) and bike or scooter storage (36%). Nordic occupiers are also fond of fitness facilities (43%).
#4 - Desk sharing and digitalisation are influencing office design
Large companies with more than 5,000 employees in the Nordic countries shift the most: 88% are reducing dedicated or assigned seating, and equally many are increasing activity-based work environments. Other collaborative workspace options are becoming increasingly interesting for larger companies, specifically hot-desking (81%), and targeted mobility arrangements (56%), combining dedicated and shared seating options.
1Source: Nordics Occupier Flash Survey, CBRE Research, November 2020.

Discover more from CBRE's Nordic Office Occupier Sentiment Survey 2023. Download the full report below.
Please contact Jussi or his Research colleagues in the Nordics: