CBREs experts Anne Laukia and Andrea Pittaluga from CBRE's Debt & Structured Team sat down and had a discussion around the current state of real estate financing from the Nordic markets point of view. Here is what they said.
Bank lending
Anne states that the Nordic banks are currently busy with existing clients and their loan books. Recent weeks have been turbulent: There have been hiccups in the commercial paper market, bond markets have not been open every business day and corporates have been drawing on their RCFs. Wholesale banks who serve a high number of retail and SME clients have committed to payment holidays for struggling clients. Most banks have also postponed dividend distributions due to the pandemic and the recommendation of the European Central Bank. Throughout this turbulence Nordic banks have been serving their clients and providing funding also to new projects. Other non-Nordic banks already active in the region, including banks with a pure focus on the property sector, are still selectively open for new business; their organizations are generally less burdened due to the absence of retail and commercial banking.
Furthermore, Anne states that Nordic banks are among the most strongly capitalized banks in Europe, which has made them more resilient for the COVID-19 crisis. Most of them have been reporting over 10% operating profitability levels vs. the EU average of 7% (Fitch, 2019) and they generally operate in a cost effective manner. The strength of the banking system has generated attractive loan margins for real estate transactions in Finland.
However, since the end of February European banks' senior secondary market levels have increased by some 50 bps, which indicates higher margins to real estate transactions and projects in the Nordics too. At the moment, it is a bit challenging to source development financing from some of the region's banks, especially for retail and leisure sectors, but we expect Nordic banks to promptly resume real estate lending when the worst is over with the pandemic. So far, the published Q1 results of the Nordic banks have been relatively stable, e.g. with increasing net interest income and net commission income with improving cost to income ratios; at the same time Nordic banks are getting prepared to increases in loan losses.
Andrea adds on Anne´s statements and says that Banks across Europe and the UK are in a much stronger position than we saw during the global financial crisis, with central banks also being willing to support any liquidity issues. European banks are evaluating existing balance sheet exposures including real estate debt. In terms of originating new business, banks are either pausing, temporarily closed for new business or will consider a more narrow window of lending opportunities within a conservative framework of underwriting. Banks are generally providing sponsors with the ability to delay interest payments and/or waive certain covenants. We expect this will remain the case for the next few interest payment dates. We expect there to be defaults and distress but this is not anticipated to begin to materialize until Q4 2020.
Alternative lenders supporting the market
Anne's observations are that during recent years in Europe we have seen a rise of alternative lenders, including insurance companies, debt funds and private equity firms entering the lending markets. These lenders can offer a variety of funding options not provided by traditional wholesale banks. Many of them are still able to review new lending opportunities and provide terms. Alternative lenders can support the market now, when the Nordic banks are increasing their selectivity.
Andrea has seen that similar to the banking market, alternative lenders are looking closely at their existing loan books and are assessing the exposure they have across commercial real estate. Where there are limited legacy issues funds are looking at new lending opportunities. While some alternative lenders are having difficulty with funding costs due to the volatility in benchmarks or the availability of loan-on-loan financing others are seeing the chance to lend on deals where they were previously less competitive.
Margins on the rise
Anne claims that there are pricing pressures due to the banks' higher funding cost in the bond market. In Finland, the pricing discussions were on-going already before the COVID-19 crisis escalated. Banks' capital requirements are on the rise due to Basel IV and the new requirements from the regional supervisors in the long-run. Even though Nordic banks continue to show better profitability than their European peers, there is room for improvement. Alternative lenders provide greater lending sources, but their pricing is typically more expensive than traditional high-street banks.
Andrea has also seen that funding costs, risk premia and opportunistic lenders are feeding into higher costs for debt. For certain asset classes including retail and operating assets we also see lenders retreating.
The conclusions
Anne suggests that it is a good time to get prepared, compile presentations and financial models and do soft-sounding with lenders to be ready for a window of strengthened confidence for new deals. And it is always good to check all the viable lending options to optimize loan availability and terms.
Andrea believes that for the right asset class and deal size there are sufficient pockets of senior commercial real estate financing available in the market. Irrespective of this it is key to begin engaging with lenders to gauge appetite and to be in a pole position to progress deals as the market unfreezes. The lending landscape is likely to continue to evolve so be prepared for change.
Selected Nordic real estate senior bonds, spread development during 2020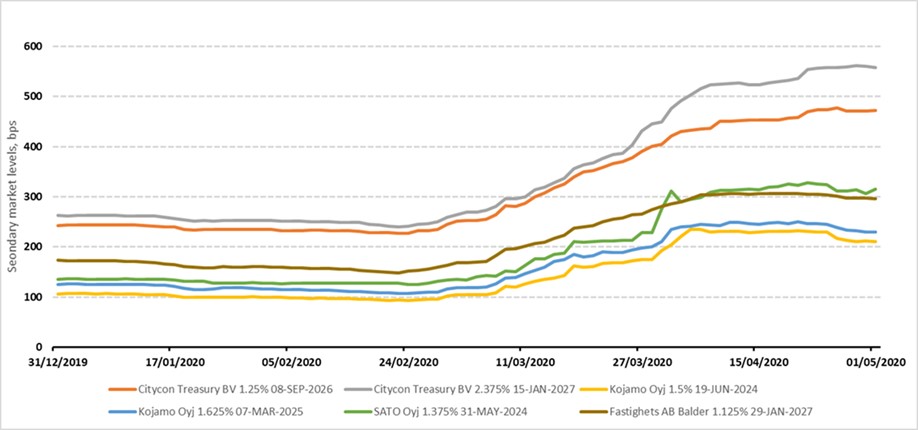 Source: CBRE Research, Factset.
iTraxx European Senior Financials indicating banks' funding levels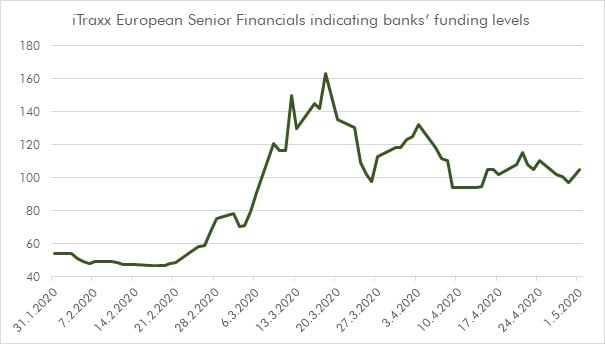 Source: Factset, CBRE Research