The Nordic Research Team have written an article regarding Tech in the Nordics covering ICT Programmers, Tech take up, programmers and what the new generation "Z" are looking for in the future. This is also described in an infographic.
Finland & Helsinki – The hotspot for tech and gaming
Finland was ranked number one on the Digital Economy and Society Index in 2019, where the five ranking components were connectivity, human capital, use of internet services, integration of digital technology and digital public services. The country continues to be one of the IT and tech trailblazers in Europe and has a large technically educated workforce through its history of industrial and technological success stories, like Nokia and Supercell.
Finland has the largest share of ICT specialists in the total workforce (~7 %) in the Nordics and has lately been known for its thriving gaming industry and active start-up scene. There are more than 260 gaming companies in Finland and Helsinki Metropolitan Area is a major hotspot for the technology and gaming industry. CBRE Research has calculated that the share of tech in the office take up in Helsinki is 23% and technology and gaming companies are really showing the way in the office occupier market with the setting up of top-notch office spaces in prime locations. The gaming industry is under fierce competition for the right resources. Expectations are high and salary is no longer the only component of recruitment. The office is often seen as a fully serviced homelike space, where culture and community are key factors. Tech savvy companies are attracting talent through offering their employees highly serviced workplaces with various amenity-laden spaces ranging from lounge areas to entertainment centres and 24/7 sauna and spa departments. Some tech companies even provide their workforce the use of SUV's and sportscars and an opportunity to rent the company yacht as an additional employee benefit. The combination of an easy-access-location, brand visibility and individualized space are top priorities during office relocations.
Technology companies are the most sought-after employers among young professionals in Finland. The Young Professional Attraction Index 2019 study by Academic Work suggests that nine out of the top ten most attractive companies are from the technology sector (Tech, IT & Gaming) and among these companies half were Finnish homegrown tech companies valued and branded as the best workplaces to be in. The reasons for the attractiveness were not only innovative products and projects topped with interesting career development opportunities, but also impressive employee benefits, including multi-use productive office spaces and other added value perks that come with them.
CBRE sees that the fluid and productive workplace, which the Finnish tech and gaming companies are already providing to their workforce, is one of the main trends to look out for in the next decade as we experience the change in the ways we work.
Copenhagen – the vibrant tech start up scene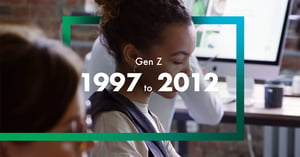 Denmark is one of the most digitalized countries in the EU according to the recent Digital Economy and Society Index (DESI) 2019, published by the European Commission. Finland, Sweden, the Netherlands, Denmark and the United Kingdom make up the top five in the annual ranking.
The government being very keen at pushing the digital agenda, ICT sector in Greater Copenhagen is supported by Denmark's record-high level of digitisation in the public sector. Furthermore, Copenhagen has a vivid tech start-up community and a deep pool of highly skilled employees. Greater Copenhagen is therefore currently considered to be one of the largest ICT clusters in Europe, with estimated 100,000 people working in this sector.
It is therefore no surprise that the ICT sector is one of the major driving forces behind the office space demand in Greater Copenhagen. A shift in preferences within this sector when committing to office space is becoming increasingly visible and comes as a response to ever increasing fight for talent. With unemployment levels being at historically low levels in Copenhagen, both attraction and the retention of employees is high on the agenda. Workplace transformation will continue as companies adopt workplace strategy to foster innovation and collaboration across different disciplines and business units.
According to available figures, take-up in Copenhagen City during 2019 was primarily fuelled by strong activity from professional service sector (such as Lawyers, Architects, Banking and Insurance, Real estate professionals etc.), the computer and high-tech sector as well as the business service sector (such as Advertising, Consulting, PR companies and similar). Technology's share of take-up in 2019 was down slightly relative to 2018, with financial and business services rising. Sector level employment forecasts suggest that this rebalancing will persist through 2020, and asset leasing strategies will need to take account of this shift.
Stockholm – World-leading companies and the increasing fight for talent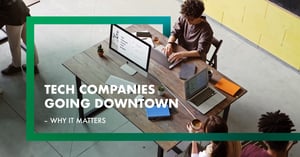 Sweden is second only to Finland in the Digital Economy and Society Index and has the second highest share of the workforce engaged in the ICT sector in Europe. A long-term political ambition to early on provide access to the internet and promote PCs at home, means that a sizeable chunk of the younger part of the current workforce grew up with a computer. The most common job in Stockholm is now to work as a programmer.
The tech sector spans across a wide spectrum, but some of the most prominent companies can be found in the Fintech, Gaming and Communication sectors. Several Swedish companies have been ranked as Unicorns, which is a term referring to privately held start up companies valued at above USD 1bn. Some of the most successful companies include Mojang (Minecraft), King (Candycrush), Truecaller, Skype, Spotify, Klarna, iZettle and Bambora.
Hardly surprising, the tech sector was the largest office occupier group in Stockholm in 2018 measured in take up, and the second largest after the public sector in 2019. The tech sector's share of take up was 24% in 2019 in Stockholm. Several take up space in the most central locations in CBD and the inner city. There is also a growing presence from the American FAANG (Facebook (FB), Amazon (AMZN), Apple (AAPL), Netflix (NFLX); and Alphabet (GOOG) companies. The most recent lease was Amazon Web Services, taking up 6,000 sqm in brand new Sergelhuset in central Stockholm.
Having a centrally located and impressive office is part of the talent attraction and retention strategy for several of the companies. An office and/or location which is rich in amenities and service offering adds to the workplace's overall attractiveness.
Oslo – Tech sector dominates the office market
Despite being fourth of the Nordic countries on the Digital Economy and Society Index, Norway is ranked as high as fifth overall of countries in Europe, illustrating how digitally advanced the region is a whole. Furthermore, Oslo is ranked as the 36th most innovative city in the world by 2thinknow's annual ranking, in the Nordics only behind Stockholm, housing global tech companies like Telenor and Opera Software.
It is estimated that there are at least 52,000 people working in different parts of the tech sector in Oslo, which is almost twice as many as finance and insurance and law firms combined – two sectors which typically are seen as more dominating in the Oslo office market. Over the last years, many of these companies have been relocating to the city centre, driven by the change in behaviour and preferences by a new generation of workers – millennials. These workers do not drive cars and want to live and work in urban areas with rich cultural and service offerings. Microsoft's colocation of 550 employees to some 9,600 sqm in the Bjørvika area of the city centre is one example of this.
Technology and science is also a key focus area for Oslo municipality, which in 2019 launched a new development plan for "Oslo Science City" – a big part of the outer city area around the University of Oslo, which by far will become the largest hub for science, IT and health in Norway. The project has drawn inspiration from cities such as London and Boston. It is expected that the project will be popular in the industry, as a good or even better alternative to Oslo city centre, which poses challenges such as low availability and high rents.
Please contact the Nordic Research Team if you have questions or would like to book a meeting.
This article is illustrated in this Infographic: