How will the global pandemic and the e-commerce trend reshape the market for logistics real estate in the Nordics? We have explored the market for Nordic logistics' real estate and drawn conclusions on the likely development going forward.
The logistics' property stock across the Nordics is to a large extent located in hubs close to the larger ports, the most important roads and railway hubs, and the largest end consumer markets. They are an instrumental part of how goods flow across the region, and a key solution to the growth in e-commerce.
Accelerated turnover for e-commerce
The global pandemic has certainly accelerated the turnover for e-commerce. Across the Nordics, Finland and Norway are forecasted to increase the total share of turnover online from 9% to 11%, Denmark 16% to 18%, and Sweden from 10% to 14% 2019–2020.
The e-commerce effect can for instance be spotted in Finland's package deliveries, which have increased by 60% between 2009-2018. Card payment volumes online grew likewise rapidly during the crisis and remain boosted. Online card payments within the non-food sector were 40% higher in September this year compared to the year before.
More logistics space is needed
E-commerce requires packaging individual deliveries and handling returned items. The implication of this is that pure-play e-commerce on average requires more logistics space than store-based retailing. In our estimates for Sweden, e-commerce in the current logistics' stock requires on average 2.4x times more logistics' space than store-based retail. Product categories with high return ratios likely need more logistics space relative to their store-based retail (and vice versa).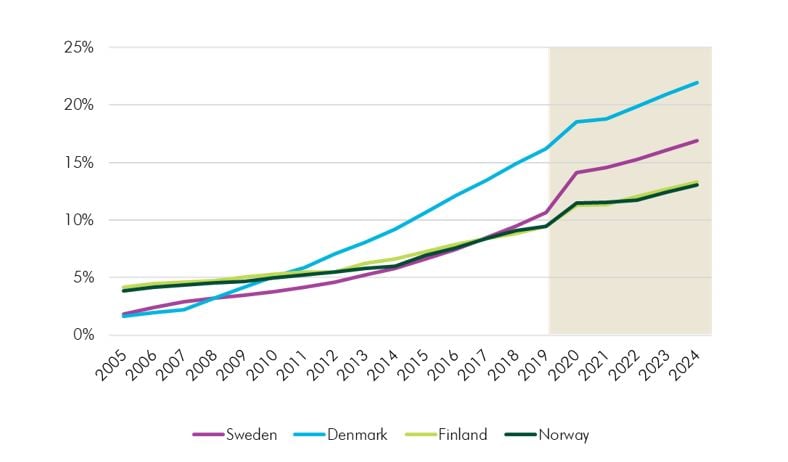 Chart: E-commerce' share of total sales (%)
The online turnover
The global pandemic during 2020 has further accelerated the online turnover. According to Euromonitor, the turnover will shift up extra during 2020, and then return to a more long-term growth projection.
A likely consequence would be that we will see a spike in demand in 2020 and thereafter a spike in completions during 2021 and the first half of 2022, as logistics' properties usually take 12-18 months to complete. It is also supported by what we see in the statistics for Sweden and Denmark, where the planned developments in 2021 is higher than during 2020. Thereafter, completions will return to more "normal" levels.
The supply response has been controlled so far, although a large increase in speculation would naturally increase the risks. Municipalities that wish to capture the growth and attract job opportunities, need to have a look at the amount of industrial land available.
Cold storage and mega-large warehouses
We might only have seen the beginning of cold storage and mega-large warehouses, and there's potential that these will be recurring themes for the next few years. Several cold storage units are underway in the capital regions.
However, a change in consumer behavior is hard to predict. Even though evidence from Sweden and Finland indicates that more people have ordered online during the pandemic, it's worth pointing out that forecasts have historically tended to overestimate how fast a change in consumer behavior would occur.
Conclusion
We will likely see a spike in Built-To-Suit logistics space during 2021 and first half of 2022. As very little is built speculatively and the increase in completions is driven by an increased demand from occupiers, it is unlikely to push up vacancy rates.
Please contact the authors if you have questions or if you would like to book a meeting with them.