The COVID-19 pandemic has radically altered the decision landscape for corporate occupiers. Corporate real estate leaders are increasingly aware that it is the confluence of approaches to talent, location, occupancy, and design & experience that will drive successful outcomes in 2021 and beyond. We believe real estate strategy must be reimagined as a connected framework of specific considerations that are thoughtfully, and continuously, explored.
Occupiers have been forced to implement measures to make their workplaces safe and manage the return of workers to the office, while also accepting the possibility of lockdown‑induced closures of uncertain timing and duration. They have also had to re‑evaluate a range of longer-term aspects of future portfolio strategy, workplace practice and the possible shift towards a more distributed workforce pattern in which home‑based working plays a larger role, and in which flexibility is vital. These are complex processes needing detailed analysis, and a deep understanding of the trade-offs involved. To build the evidence base on these issues, CBRE surveyed a range of companies with substantial footprints in Europe to understand their priorities and intentions around future portfolio strategy; the role of the physical office; arrangements for future remote working; internal workplace strategy; and the balance of factors that will drive their decision‑making.
COVID CHANGES EVERYTHING
The main immediate response of occupiers to the COVID-19 pandemic has been initial closure and subsequently phased or restricted access to offices. Having seen some limited reopening earlier in 2020, Danish cities are now subject to further temporary restrictions with resultant uncertainty about the timing of fuller returns to the office.
Moreover, most expect that the changes brought by COVID-19 will have lasting impacts over a longer timeframe. Rather than being something with a fixed duration and a clear end point, it is seen as something that will have a lasting impact on decision-making.
PORTFOLIO STRATEGY: SHIFTING PRIORITIES
The current mix of occupiers' portfolio strategy priorities partly reflects the current forced response to COVID-19, but also give some clues as to future directions.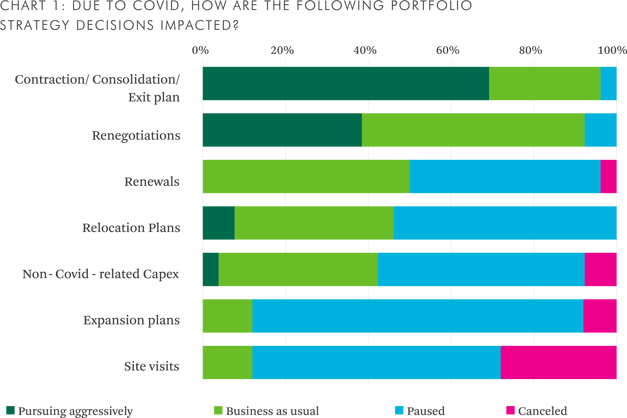 Activities aimed at reducing both short-term real estate exposure and costs are being widely pursued – understandably, since many offices are under-utilised while large scale home working persists – including consolidation. Conversely, relocation plans or expansion plans and non- COVID related Capex are being paused or cancelled by a significant majority. Clearly cost management is regarded as more important than concentration risk, at least in the short term, and as a result we may see a drive towards retrenchment in fewer core locations.
WHERE NEXT FOR THE OFFICE?
The wide range of factors being weighed looks likely to alter occupiers' view of the importance of the office in a more networked set of working arrangements. Nearly 60% of respondents expect that in a future steady state environment (i.e. once it is no longer necessary to implement temporary emergency measures in response to COVID) the physical office will become relatively less important. Equally 27% say the opposite – that it will become more important.
This reflects a tension between, on the one hand, those factors that encourage gathering at a fixed office location – collaboration, interaction, brand and culture – and on the other hand the desire to enable greater employee choice about location and the time split between home and office-based work.
Consistent with these findings, over 80% of occupiers expect to be shifting towards a reduced scale of office footprint over the next 3-5 years. This is not a new phenomenon – using space more efficiently is a longstanding aim, often with the explicit aim of reducing space needs – but it will limit occupiers' appetite for new space particularly given the degree of short-term demand uncertainty. Equally the ability to execute these intentions isn't necessarily immediate – outstanding lease commitments, landlord willingness to accept surrenders etc. – will be limiting factors.
In addition, there is a growing flight to quality for office space: corporate portfolios may become smaller, but they will also become better. The most in-demand attributes of buildings are shifting towards flexibility, shared meeting space, wellness feature such as enhanced air quality, sustainable design and technology such as connected, app-based features and touchless technologies. Previously important elements such as refreshments, fitness and concierge facilities are coming to be seen as less critical. COVID has changed perspectives in a very short timeframe, and elements that support health, hygiene and wellbeing are likely to become much more important building-selection criteria in the future.
MEDIUM-TERM OBJECTIVES: REMOTE WORKING AND FLEXIBILITY
The main pillars of future strategy compared with the pre-COVID situation are twofold: firstly devising arrangements for remote working, and secondly raising the level of flexibility in portfolios.
Organisations are expecting to support higher levels of remote working than previously. The proportion that support minimal to zero remote working (that is less than 10% of the workforce fully remote) falls from 64% pre-COVID to 15%. At the same time there appear to be some limits to this shift: the proportion expecting more than half the workforce to be fully remote is only 12%. There are many factors influencing this: individual employee preferences, mix of roles and functions, local regulations etc. – but companies appear to be heading towards a more distributed work pattern within certain limits. Exactly where these limits lie will be case-specific, but the office will remain the destination of choice for the majority of workers.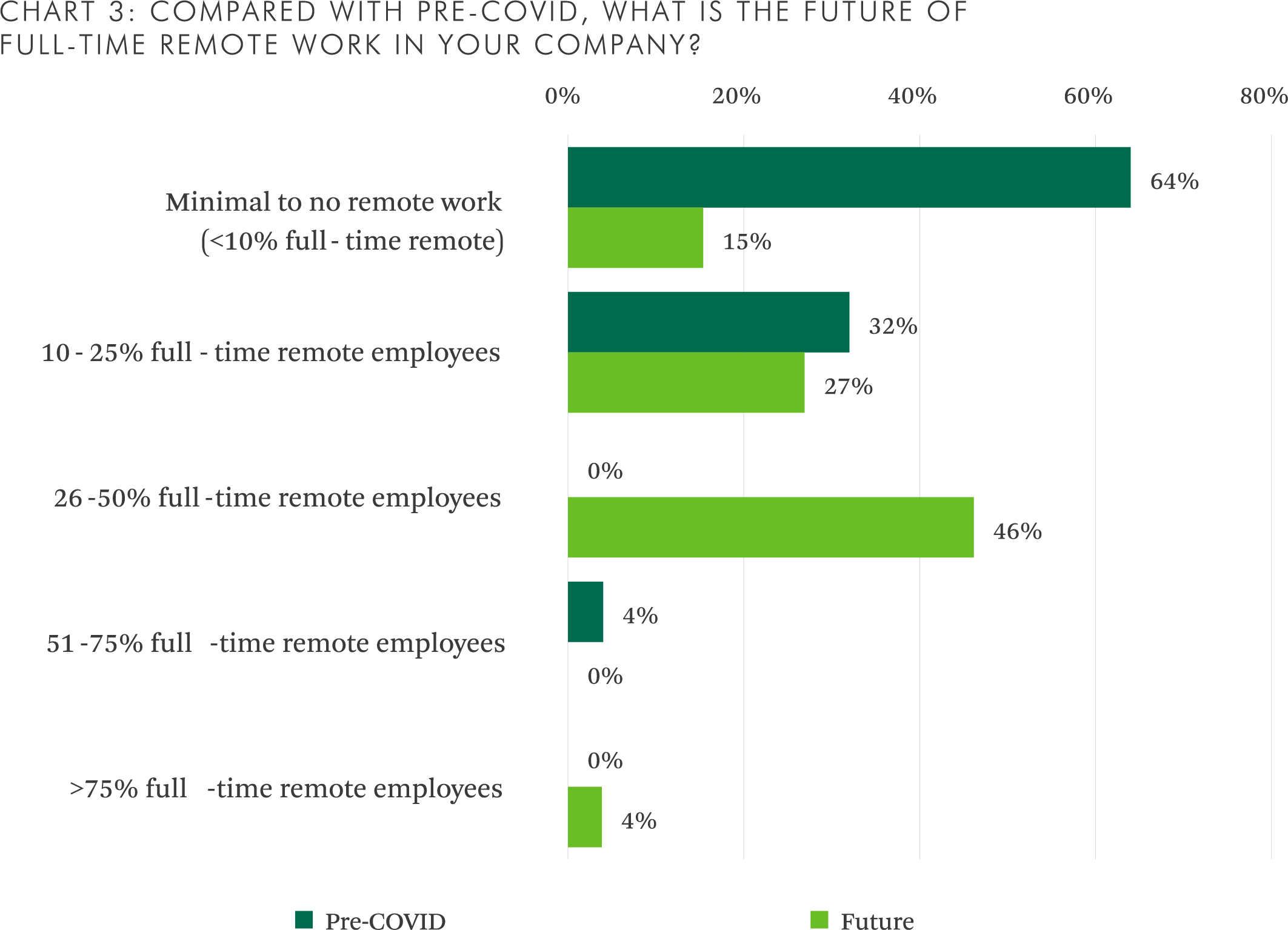 Flexibility is a more highly valued commodity in an uncertain environment. Over 85% of respondents see at least some role for flexible space, and for half of these it is viewed as a significant role, driven by short-term factors such as reduced capex and temporary space for dispersed workers. But also more strategic needs such as alternate workplace models and network development. Foremost among occupiers' needs for this type of space – regardless of the provider – is the ability to provide a safe working environment, which is reported as comfortably the single most important factor in selecting flex space, where previously decisions were a lot more balanced. Again, COVID has altered medium-term priorities: for space providers, health and wellness credentials will be an increasing competitive advantage.
CONCLUSIONS
In the short-term, occupier priorities are largely dominated by the aims of portfolio optimization, consolidation and reducing short-term real estate exposure and costs. This reflects current elevated uncertainty, and we expect this focus to persist for a while yet.

Over the medium to long term, occupiers will need to work to a more complex dashboard of objectives.
Key among these will be:

Assessing the precise role, function and specification of office space against the general objective of a smaller overall footprint. Continuing to use the office as a way of supporting culture, brand and talent agendas – while also recognising the shift towards greater remote working – will be a major element.
Incorporating increased flexibility into portfolio and workplace strategy, including assessment of the optimum level of employee choice, and the likely need to agree protocols around office attendance.
Acknowledging the step change in the importance of the health and wellness characteristics of buildings, with air quality a particular area of focus.
Layout and configuration of working space, particularly the accelerated shift from personal assigned spaces to unassigned team spaces, and the need to provide sufficient range and proportion of different working environments.
The increased importance of technology and data in enabling corporates to solve for the various benefits and trade-offs involved in these shifts in strategy.


---
The Nordic Research team
The Nordic Research team's research data and hands-on expertise in the Nordic market offers the latest insight and a global perspective into how Nordic cities are changing, now and in the future.
Please contact the Nordics Research Team if you have questions or would like to book a meeting. They can also direct you to CBRE's advisor for respective sector.