The tale of inefficiency is the tale of transportation and logistics; an industry with a complex landscape and low margins, struggling to find quick fixes to improve its weak points. The challenge is great indeed: on one side, the industry is under constant pressure to lower costs; on the other, capital needed to finance reinvention is hitting directly on profit margins.
Consumers want greener shopping options
It seems like the industry with a vision to achieve full connectivity and full automation has a long road ahead. The drive towards net zero will also play a significant role in the future of logistics, both in the construction of buildings and for the operators. On a global level, transportation activities (aviation, rail, shipping, heavy and light trucking) are believed to contribute to 15-17% of the global greenhouse gas emissions (International Energy Agency, 2020). As e-commerce is projected to see further growth, this will mean even more vehicles on the road.
The entire supply chain stakeholders have, therefore, a responsibility to
1) find innovative solutions for CO2 reduction
2) optimise transportation and
3) find better packaging solutions.
According to DHL, packaging density optimization is an industry-wide challenge since 24% of the average shipping container volume is empty space. In some e-commerce categories, parcels contain up to 40% air.
The consumers' environmental and sustainability awareness is challenging existing market players to find new solutions – from business models to packaging products. There is much discussion about whether online shopping is more damaging to the environment than shopping in-store. Recent research shows that for customers who live within 5 kilometres of a store, click and collect is a much eco-friendlier shopping method. Locker boxes, where you pick up your delivery from a secure locker, offer a good compromise between increasing convenience and reducing environmental impact. A further green, last-mile initiative is crowdsourcing, where members of the public drop off packages as part of their planned journey for a small fee.
Technology as a solution
For at least some of the industry's challenges, technology certainly stands out as a potential solution. It will, though, take some time before logistics can be labelled as frontrunners in terms of tech adoption. Things are slowly starting to change, in line with the rise in the investor's interest in logistics technology. Venture capital (VC) is increasing, but – as in other industries – it is still highly concentrated. Most of the capital is going towards start-ups working on last-mile and freight platforms. Particularly start-ups relying on drone deliveries, autonomous vehicles and shipment to parcel lockers. This suggests that investors see an opportunity for unconventional last-mile services to complement companies with traditional delivery fleets as they anticipate the next normal in last-mile parcel deliveries.

Table 1: Supply chain tech VC ecosystem map

Strong focus on last-mile and freight platforms
VC investors funneled some USD 12.6bn into supply chain technology start-ups in North America and Europe in 2020, through 555 deals (PitchBook). It was particularly enterprise supply chain software and warehousing technology that have emerged as hot spots, attracting record venture backing in 2020. The total start-up funding to date is estimated to be above USD 40bn, increasing 17x since 2014 compared to other industries, which have seen about a 2x increase (Ironspring).
Last-mile delivery VC deal value in North America and Europe totaled USD 5.1bn in 2020, up 5.5% YoY, continuing the trend of strong late-stage funding in this segment.
Figure 1: Last-mile delivery VC activity (North America and Europe)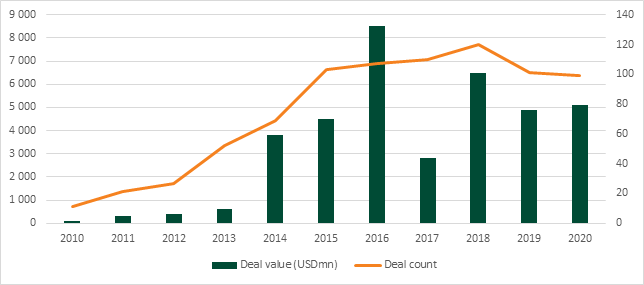 Source: PitchBook, 2021
Figure 2: Last-mile delivery VC deals (#) by stage (North America and Europe)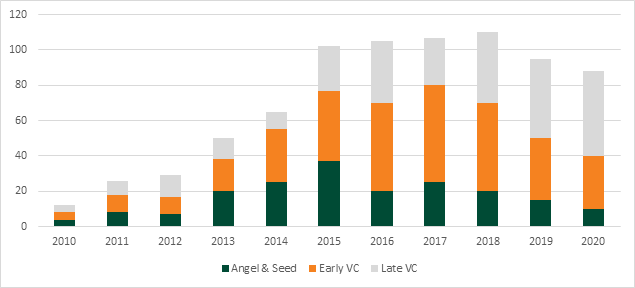 Global revenue from last-mile delivery services is estimated at USD 347bn in 2019 and is forecasted to grow to USD 579bn by 2025 (CAGR 7.7%). According to PitchBook, last-mile delivery platforms are primed for major IPOs in 2021.
Another segment that has captured a lot of attention and funding is freight platforms. This especially goes for platforms that focus on road transportation. Although most of the funding comes from investment funds, the segment has also seen significant corporate funding. For example, DB Schenker acquired a USD 25mn stake in the road freight booking platform uShip. The focus of these platforms is to address vast inefficiencies caused by the empty runs, improving thus the sustainability of the transport and logistics industries.
Share of European start-ups still small
Despite Europe's strong presence in the industry, with big names such as Deutsche Post, DHL, Kühne + Nagel, DSV and DB Schenker, the funding that the European logistics start-ups receive is still very low compared to US and China. According to McKinsey, Europe's logistics start-ups only account for a 5% share of the cumulative logistics start-up funding. China's dominance is believed to be driven by a tendency to innovate fast and a willingness to try out novel business models, accelerated by stronger overall economic growth. Currently, six of the top ten best-funded logistics start-ups are from China.
One possible explanation for such a low share of Europe in the global VC funding is that venture funding is not that common in Europe as it is in the US and China. However, when looking at the share of Europe in the overall VC funding across all industries, which was at 15% in 2018 (Crunchbase), the 5% share of the cumulative logistics start-up share seems rather low. Another possible barrier could be the reluctance of the established market players in Europe to use new providers in the same manner as their Asian or US peers are doing.
Conclusion
With a growing demand for warehousing space close to end consumers, solutions like store, micro- or crowd-sourced fulfillment might prove to be increasingly appealing to investors. By 2030, the logistics industry is believed to move even closer to the customer with e-forwarding and crowd-sourced delivery becoming the new normal.
High levels of VC funding are certainly giving momentum to start-ups. And as the market develops, front-runner start-ups will have the possibility to become some of the largest logistics companies of the future. The VC inflows will allow start-ups to gain some muscles and expand. The number of corporate investments into start-ups is also poised for growth, with M&A activity being particularly in focus.

Please contact Dragana Marina or Jussi Niemistö if you have questions or would like to book a meeting with them.