Guy Payn, who recently joined the CBRE Strategic Advisory Nordics platform, share his views on how occupiers can utilize Corporate Real Estate Management to drive stakeholder value.
Guy Payn, who recently joined the CBRE Strategic Advisory Nordics platform is interviewed by the Finnish Corporate Real Estate Management (CREM) team.
Guy has an extensive background working in the Asia-Pacific (APAC) Region, based in CBRE Hong Kong for 13 years. Most recently he was the APAC Alliance Director for the HSBC account, before moving to Finland in December 2020 to start his new role in the Nordics.
How has the Real Estate Industry changed in the recent past?
A lot has been said and written about the challenges faced by the Real Estate Industry over the last 12 -18 months, but when looking back at the incredible opportunities it has provided to breakdown traditional ways of thinking and supercharging positive change, there are also a lot of positives to be seen. As Guy comments: "The accelerated technological progress, forced agility and speed of decision making, have now firmly cemented themselves in the well documented 'new normal'. This means one thing for those in our industry, we need to continue to be agile and align ourselves as closely as possible to our clients and stakeholders."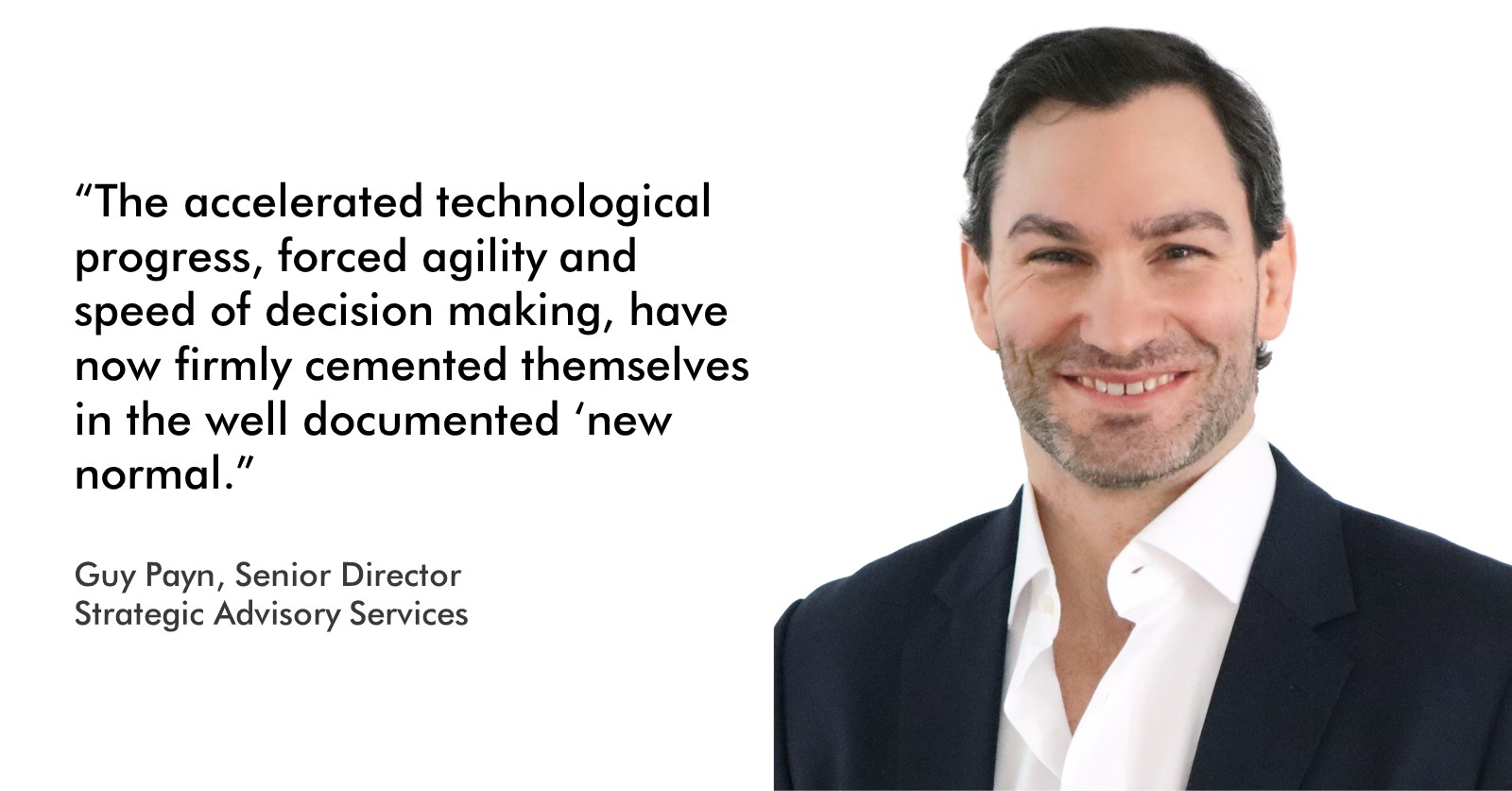 In the post-pandemic world, most companies will (if they have not already) reassess their workplace strategy and their resulting space needs. We have grown accustomed to the new norm of remote or flexible working, calling into question the true purpose of the office and the role it plays in the way we interact with colleagues as well as forming and maintaining team or company identity. Some industries will naturally hold onto the change in the work style of flexible working while others, over time, will gradually return to more traditional ways of working. Time will tell…
However, fundamentally Guy sees that the risk here is not of change itself, but the lack of adaption to it. The opportunity cost for both client and service providers alike, is in not taking full advantage of the unique set of circumstances we currently see, to bringing about positive change and future-proof portfolios.
What is CREM and how can it benefit our clients?
According to Guy, this part is often misunderstood and its value, as a result, underestimated. Corporate Real Estate Management is an elusive term, even to people who work in real estate. An effort to describe its function can often lead to listing the related services, such as Transaction Management, Portfolio Strategy, Lease Data Management, but what is it, that we, who work in CREM, actually do?
Guy states that while ultimately, we are in the real estate services profession, a big part of what we do is stakeholder management, be it around managing expectations, and even emotions. We manage clients and their various internal stakeholders through a journey, whether that is a specific transaction or a savings initiative, or a longer-term transformation of the corporate real estate function within a given organisation. We are client-centric and customer experience focused. Effective communication and a deep understanding of our clients are some of the most important skills needed to be successful in what we do.
The basis of everything is intimately understanding the client's needs and portfolio. We want to bring our clients peace of mind, knowing that one of their biggest expense drivers is 'fit for purpose'. The main aim of our work, in the end, is to allow our client to focus on their core business, while we professionally manage their real estate portfolio. The process was summarized nicely by Guy: "We work for the client, together with the client – as integrated partners".
We also touched on the differences between ways of working in APAC and Nordics. From his time working in APAC, Guy could tell that, in addition to the faster pace and intensity of APAC, the buying patterns are also very different. In APAC the corporate journey of CREM outsourcing is more developed with many companies adopting an outsourced model where the CREM team is running their portfolios, allowing the client more time to focus on stakeholder engagement and business growth.
How can we bring added value to our clients?
One of the key points to be drawn from our discussion with Guy was that the most important thing is to know the client, to build personal relationships, and to understand the client on a deeper level. After all, this is still a 'people' business.
As consultants, we manage our client's portfolio like our own. We keep our client's best interest in mind. We bring not only our global expertise and personal experience to the table but also our own personality. Guy states that a good client relationship is everything. An indicator of a truly great partnership is not being able to differentiate between the service provider and the client, where the integration and collaboration is seamless. As consultants, we live and breathe the client's real estate strategy, looking ahead, ensuring we take advantage of every and all opportunities.
"There is no one magic approach to solve all challenges for all clients, each client is unique, with different corporate values and internal landscapes. The value we bring is not solely monetary, although understanding our client's real estate portfolio, being proactive and strategic can certainly lead to mentionable savings. In the day-to-day work, the actual value comes from having a dedicated real estate professionals with a global network behind them driving value in all aspects of the real estate function allowing the client to focus on its core business."