Corporate real estate teams are adapting and innovating at ever-greater speeds to deliver flexible workplace solutions as workstyles evolve and organisations implement hybrid work policies.
CBRE's Workplace & Occupancy Management team's annual survey of major occupiers worldwide reveals three themes set to transform workplaces and office portfolios over the next two years:
Purpose-driven flexibility
Evolving workstyles and employee expectations create a new purpose for the office: connection and collaboration. Existing spaces are being rebalanced to support new ways of working.Workplace technology investments focus on integrating physical and virtual work experiences.
71% of respondents plan to expand their hybrid program in the next three years.
Modern metrics measure reality
Metrics are expanding from measuring how space is planned to measuring how it's used. Utilisation data is now the key metric to gauge portfolio performance and employee experience.
90% of respondents gather utilisation data, up 11% from 2021.
Data management is risk management
Workplace data is essential to continuity-of-business planning and developing business strategies beyond real estate. Organisations are prioritising data quality and technology investments to develop better workplace insights.
Corporate real estate teams are challenged to establish a "new normal" for the workplace.
To stay ahead, teams need to adapt, experiment and implement increasingly flexible solutions—and deploy them at greater speed.
Portfolio optimisation remains a top priority for corporate real estate leaders. Still, the intense focus on return-to-office planning and hybrid working is placing workplace strategy at the top of C-suite agendas. As a result, corporate real estate teams wield more influence—and also attract more scrutiny—than ever.
Figure 1: What are the goals of your corporate real estate team?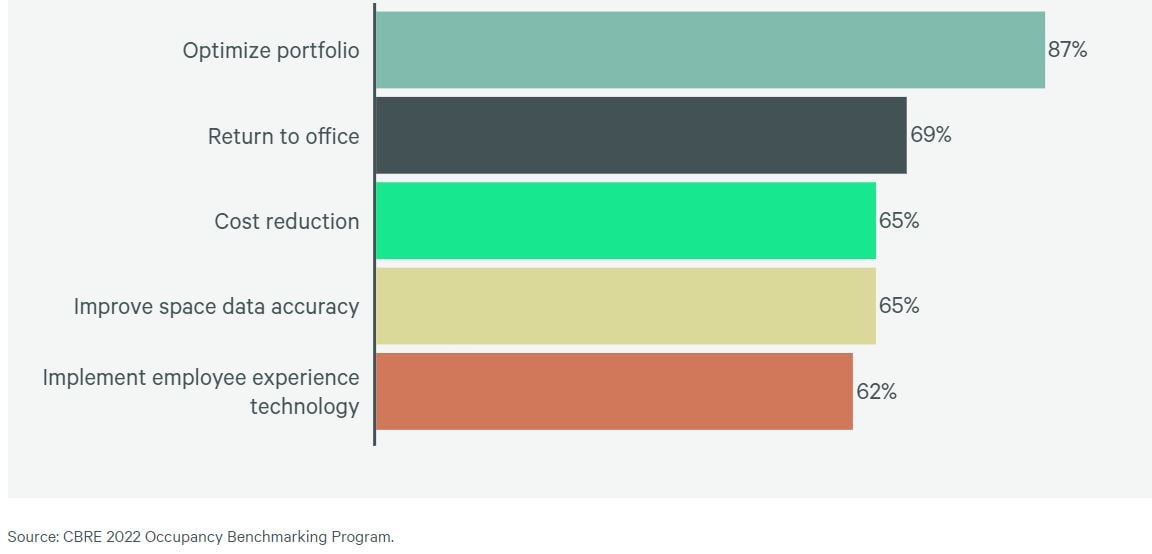 To provide these teams with better data and tools to navigate unchartered waters, CBRE's Workplace & Occupancy Management team launched last year its annual Occupancy Benchmarking Program, which combines quantitative and qualitative data, and surveys of corporate real estate decision-makers to identify and track core occupancy metrics, and modern working and workplace design trends.
60 organizations participated in the program in 2022, representing 46 million sq. m. across eight sectors. Their anonymised responses were aggregated into benchmarking dashboards that offer 50,000 unique workplace, occupancy and space management data points to deliver industry-leading global, regional and market-level perspectives by sector and asset type.
The results point to three areas of focus
Deploying hybrid working schemes that provide the flexibility desired by employees while ensuring they remain connected to their organisations virtually or in the office.

Measuring metrics that help organisations understand how space is used in real-time so that teams can optimise space within their portfolios to deliver the optimal balance of workstations, collaboration spaces and amenities.

Using data to mitigate risk and inform future business decisions, with an emphasis on improving data quality and integration into real estate and business decision-making.


Learn more?
For more information on CBRE's Annual Occupancy Benchmarking Program, please reach out to our Nordic Workplace team.
Denmark: Lise.Dybwad@cbre.com
Finland: Jutta.Sellin@cbre.com
Norway: Anne.Rein@cbre.com
Sweden: Fatima.Liljegren@cbre.com