The transaction market for nursing home¹ properties in the Nordics is largely dominated by Sweden and Finland. Both countries are experiencing a rapidly ageing population, with an increase of more than 60% in Finland and 40% in Sweden of +75-year-olds by 2040. The ageing populations imply a mounting pressure on the municipalities' service provision going forward.
Emma Kaksonen and Linn Gregorsson from CBRE´s Nordic Capital Markets Team share their insights.
Care ratio above the European average
In Finland, 50% of the elderly people² live in privately-operated nursing homes, whilst in Sweden only 19% live in privately-operated nursing homes. According to OECD (Organisation for Economic Co-operation and Development) there were 65,983 and 143,110 beds in residential long-term care facilities for people over 65 years in 2018, respectively. The number of beds in residential long-term care facilities per population head (per 1,000 people) over 65 years is 56.0 and 70.3 in Finland and Sweden (2018).
In comparison to other European countries, these figures are relatively high, however, both countries have experienced a steady decrease during the past decade. The care capacity or the care ratio³ (beds per population over 65 years old) amounts to 5.5% and 7.0% in Finland and Sweden. These figures are slightly above the European average of 5.0%.
Healthcare real estate investment market
In 2019 the total healthcare real estate investment volume⁴ amounted to c. €0.9 billion in Finland and €1.7 billion in Sweden. The total traditional care real estate investment volume accounted for c. 62% and 46% of the total healthcare real estate investment volume in 2019, respectively. In H1 2020 the sector has continued to be active. The H1 figure sums to €0.8 million in Finland and €3.7 billion in Sweden. The figures are relatively high due to delisting of Hoivatilat shares in Finland and the SBB acquisition of Hemfosa in the Nordics⁵.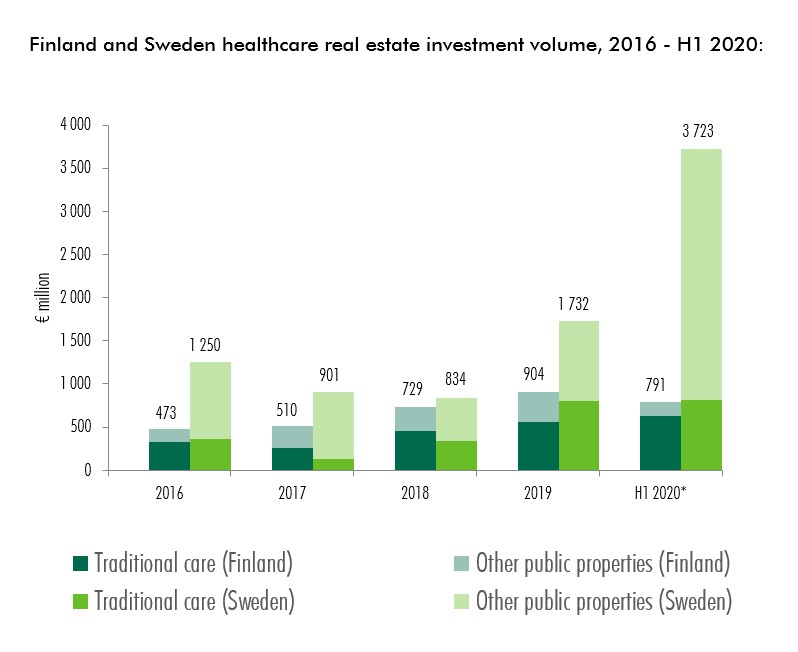 Nursing home investment demand
Investment in nursing homes attracts the strongest demand within the health and social care property sector in Finland and Sweden. Nursing home properties are an attractive target for investors searching for steady cash flows that are somewhat immune to the market cyclicality. The nursing home sector has seen continuous yield compression, where prime yields in 2020 have dropped from 6.25% in 2015 to 5.00% in Finland, and from 5.50% to 3.90% in Sweden.
In terms of valuation and deal conditions, there are five key drivers affecting the investors decision making: 1) favorable macro fundamentals in both countries (rapidly aging population and municipality outsourcing) – investors are paying an increasing attention to the macro locations of the assets as they are evaluating the healthiness of the locations; 2) tenant covenant - investors are paying more and more attention to the lease counterparty due the nursing home market turbulence and operators' financial situation from the past years; 3) long lease agreements with 10-15 years in Finland and 10 years in Sweden; 4) net-, double or triple net lease agreements - the operator is usually also responsible for the maintenance and operational expenses of the property; and 5) building age and contemporary regulatory requirements.
Conclusions
Lower interest rates for even longer, and an increasingly difficult market in which to find attractive risk-adjusted returns, make it likely that the interest in healthcare properties, and in particular nursing home properties, will continue. We expect further yield compression especially with nursing homes in good locations and good tenant covenants going forward.
---
Should you have any questions, don´t hesitate to contact Emma or Linn.
---
Notes
¹sheltered housing with 24-hour assistance for elderly people
²+75-year-old population
³the care capacity or care ratio is calculated by dividing the number of beds by total elderly population
⁴CBRE healthcare real estate investment volume includes the traditional care properties (nursing homes, mental health care, disabled care, child welfare and child day care) and other public properties (school and other educational properties, hospitals, healthcare centers and other community properties)
⁵ Please note that the delisting of Hoivatilat shares and SBB (Samhällsbyggnadsbolaget) acquisition of Hemfosa are implied values. The Hemfosa deal's share of traditional care is calculated with c. 20% for both countries, which is based on an estimate for the whole Hemfosa Nordic portfolio.
Source: CBRE Research