Office and retail has long been the two most important sectors for real estate investors. However, the world is changing, and in the future, multifamily could become the dominating asset class.
The rise in the scale of capital deploying into Europe's multifamily sector in the last few years has been substantial and is set to increase in 2020 and beyond. This reflects urbanisation and demographic trends, with up to two thirds of the global population expected to live in cities by 2050, according to the UN. Currently very immature in Norway, the sector set to evolve rapidly over the coming years, and those looking to deploy need to take their cue from markets where the sector is already more mature.
The multifamily sector continued to gather pace throughout Europe and Norway over the past year and is set to continue to evolve and increase in popularity going forward. This momentum is being driven by two related factors:
A fundamental shift in the number of people opting to rent rather than buy residential accommodation, particularly in the bigger cities. Nearly one fifth of households in Norway already currently rent and the proportions are higher in cities – for instance Oslo and Trondheim, where in excess of 30 percent of households are rented.

A growing pool of both international and domestic capital looking to deploy into multi-family, with investment in this sector in Europe expected to exceed €64bn by 2021, an increase of over 18 percent on the 2018 level.
What was deemed alternative only a few years ago is now increasingly considered mainstream, with many investors attracted by the attractive return profile from a sector that is generally less susceptible to cyclical movements over the medium to long term – a trait that is particularly attractive at this late point in the property cycle. The capital base is becoming increasingly diverse with North American private equity investors bidding alongside REIT-type vehicles, as well as European institutional investors and fund managers.
A unique market
While multifamily has been an established asset class in Denmark and Sweden for a long time, due to structural differences the Norwegian multifamily market is different. Though 23.2 percent of Norwegian households rent, which is not very high but still quite substantial, there are only a handful of professional multi-family investors in Norway, none of which are international.
Multifamily's lacking popularity among professional investors in Norway is almost entirely explained by the fact that a large part of the rental market is dominated private individuals investing in a second or third home to let. The significant boom in the Norwegian housing market over the last decade has particularly contributed to support this trend, as the value increase on a family's primary home is used as collateral for further home purchases.
This aspect of the Norwegian multifamily market explains why it is difficult for a professional investor to gain significant direct exposure to the market. However, this is not the full explanation, as it is not unheard of that one of the few domestic investors are able to buy entire new multifamily complexes. In actuality it is likely a combination of the limited size of the rental market in terms of households and how fragmented the ownership of rental homes is. However, as more and more households likely will become renters in the future, it is likely that this dynamic could change.
Current policies are a key challenge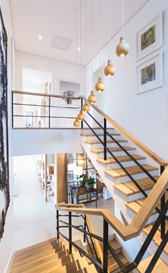 As significant price increases and new capital requirements have made it significantly more challenging for young people to buy a home, the multifamily sector can make a significant contribution to housing delivery, particularly in the largest Norwegian cities, and should be part of an overall housing policy solution.
However, the sector still suffers from inadequate policy frameworks, and so needs promotion and explanation by sponsors. This will continue to be the case as the sector evolves to include new forms of living such as co-living, micro-living, serviced apartments and later living, and becomes increasingly topical in the context of mixed-use development, urbanisation and placemaking.
Overall, we do not believe that multifamily will become the largest real estate asset class in Norway anytime soon, but that it will continue the move towards mainstream and offer attractive opportunities for professional investors that are able to access the market.
Summary
Positive prospects for growth in the evolving multifamily sector going forward, though structural challenges exist in terms of access to investment product.

Existing, domestic real estate players are starting to build multifamily portfolios – early days, but opportunities starting to arise also for larger investors.

A sector that offers comparatively attractive returns and is becoming increasingly mainstream through its growing appeal to domestic and international institutional investors across EMEA.

The impact of regulation will continue to be a key issue for many housing players.
Read more at CBREs Multifamily Innovation Watch.