Strong development for M&A deals indicate that the investment activity for commercial properties will be strong in 2021. CBRE's Head of Capital Markets, Nordics, Patrik Kallenvret shares his insights.
M&A activity recovery continues
Global M&A activity recovered strongly during the second half of 2020, becoming the strongest half-year ever. In addition, the total volume for 2020 was only 7% lower than in 2019. The recovery continued in 2021. The bond and equity markets continued to improve, as did the business sentiment, especially in tech, media and telecom.
Correlation between M&A and CRE investment activity
The M&A activity bodes well for the activity for commercial properties as there is a strong correlation between M&A activity among companies and the investment volume for commercial properties, especially when the market sentiment is strong.
The correlation for these is about 77%, where the activity for commercial properties typically lags M&A activity by 3 or 4 quarters. This indicates that we will see a robust increase in investment volumes in the coming months. A strong example recently is Europe's largest residential real estate company, Vonovia's bid for Deutsche Wohnen for EUR 18 billion with an 18% bid premium. The company will have a total of 500,000 apartments under management.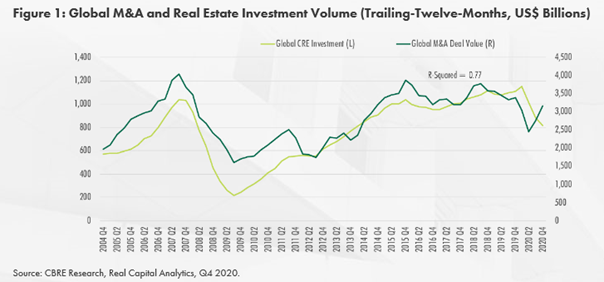 We therefore see our investment in a strong Nordic Capital Markets team with investment banking capacity as the right strategic decision, to be able to support our clients in the best possible way in current and future platform deals. Local presence with 47 Capital Markets professionals across the Nordic region, combined with an outstanding international network and cutting-edge expertise in investment banking is a concept of success. In 2020, we did real estate deals in the Nordic region for a total of EUR 4.8 billion.
Conclusion
Most consolidations take place when earnings are good, confidence is high and the cost of capital is low. Strong earnings also provide a boost for investments, employment and demand for space. Confidence and low capital costs increase the demand for assets of all kinds. Despite the increase in the 10-year US government bond, the supply of capital remains the highest ever, and the policy rates as well as the commercial loan spreads are expected to be low in the next few years. We therefore look positively at 2021.
---
To discuss more, don´t hesitate to contact Patrik.
---
Further reading: