The construction and operation of buildings contributes to around 40 percent of worldwide greenhouse gas emissions. Driven by a combination of regulatory and social pressures, we expect companies to devote more attention and rigour to ESG policies that integrate organisational, portfolio and asset level objectives. Investors, developers, occupiers and advisors, as well as asset, property, and facility managers all have a role to play in this transition.
At the Paris climate conference (COP21) in 2015, 195 countries adopted the first ever universal, legally-binding global climate deal. The agreement sets out a global action plan aimed at avoiding dangerous climate change by limiting global warming this century to below 2°C above pre-industrial levels and pursuing efforts to limit it to 1.5°C.
The response of the real estate and construction sector to this deal has been slow and uneven, but more recently momentum has picked up. This is partly a reflection of the requirements of the agreement itself, but also a growing acknowledgment of the need to respond to the demands of their workforce, particularly younger workers. For instance, ethical business practices and environmental credentials both play a significant part in the role selection of millennial workers, and the issue has gained renewed prominence through the actions of the Extinction Rebellion movement in London and elsewhere.
For investors, occupiers, and developers, the common aims of optimizing the performance of real estate, people and environment mean that sustainability forms an increasingly integral part of decision-making. Evidence of this can be seen in the fact that 93 percent of investors include Environmental, Social and Governance (ESG) criteria in investment decisions (UNEP's Global ESG Real Estate Survey Results report), and that a large majority of occupiers express some degree of preference for WELL-certified buildings (CBRE EMEA Occupier Survey).
A hierarchical approach
Investors and occupiers alike are increasingly keen to improve the ESG credentials of their organizations. We see this operating at various levels and increasingly expect a hierarchical approach to be adopted for tackling the issue. Three interlinked levels can be identified:
Organizational-level – The number of organizations that have ESG-related policies incorporated in their corporate strategy has been steadily increasing. These typically include short and long-term targets around reduction in energy, water and CO2, as well as targeted improvements in health & wellbeing and biodiversity. Many of these strategies are enshrined in existing frameworks, most importantly the UN Sustainable Development Goals and Science Based Targets – a method to assess whether carbon reduction targets are aligned with the Paris Climate Agreement – and reporting methods such as GRI or GRESB.

Fund/portfolio level – Organization-level policies are typically translated into fund level initiatives to manage ESG compliance through the adaptation of a portfolio level action plan over a period of 3-5 years. Portfolio owners recognize that they are not always in full control of the fulfilment of their targets, but depend on the attitudes and behaviours of their occupiers, investors and other stakeholders. To accommodate this disparity, we expect a growing focus on stakeholder engagement and reporting transparency. Benchmarking with peers and disclosure of performance, for instance via GRESB, has seen a steep increase in recent years.

Asset level – Where the strategic approach to ESG is set and anchored at the organizational and fund level, these policies are made concrete at the asset level. Strategies that are site-specific can be incorporated in predictive maintenance plans and aligned with expected natural moments in the occupiers' lease structure. Asset-level action plans can be very wide-ranging, including upgrades to building installations or envelope, smart meters and monitoring systems to drive operational reductions, targets to improve EPC ratings or Green Building certification scores; or alterations to hard and soft services, such as waste recycling, green cleaning programs or healthy catering concepts.
Growing level of coordination among stakeholders
As well as operating at a variety of levels, coherent policy approaches to ESG, carbon reduction or enhanced wellbeing conditions will also require increased coordination among the various parties involved in delivering, owning, managing and occupying buildings.
ESG strategy could be built according to three-tier architecture and should be simple, accessible and understandable for each stakeholder (see figure 1). This level of coherence will require a collective understanding of the aims and constraints of each of the parties involved, and the trade-offs that may be needed in order to move towards a co-ordinated approach. In short investors, developers, occupiers, advisors, as well as asset, property, and facility managers all have a role to play to improve ESG performance of an organization.
Figure: Overview of Key Stakeholders for ESG Strategy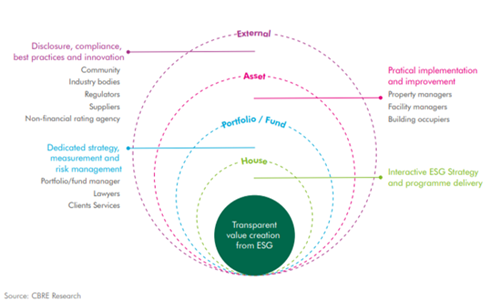 Want to read the full Market Outlook 2020 for Norway? You find it here.
Please contact Einar if you have questions or if you would like to book a meeting with him and his research colleagues.