COVID-19 has changed how offices are used around the world. Will the current trends become the new norm? What are the market implications? We revise our office market outlook for the Nordics.
As well as introducing massive short-term volatility, COVID-19 is also accelerating a number of structural processes leading towards more fluid, multi-format real estate portfolios. Some of these developments are likely to remain even over the medium to long term, as the world returns to some type of normal. Although estimating the extent of workplace flexibility is challenging, it does seem likely that expanded employee choice to some extent will become the norm in the post-pandemic world. This means more remote working, including working from home and in satellite or suburban locations that do not require extensive commuting.
Quite understandably, speculation abounds on the future of the office, with a handful of corporate announcements on the permanency of working from home strategies being misconstrued by many as implying a long-term shift from the office to the home as the permanent place of work. The reality for multi-service and multi-location businesses is not a binary choice of office or home, but one of fluid working requiring fluid workplace options.
While 93% of occupiers in CBRE's recent European Occupier Survey indicated that remote working will increase in the coming years, it is highly unlikely that this will be as a replacement for office space. There are several strong arguments for the value in meeting colleagues and clients face-to-face – with a central risk being the medium to long-term effects to productivity when employees are physically separated on a more or less permanent basis. Rather, fluidity will come in the form of working from a variety of locations (from home, to headquarters, to flex office, to coffee shop) reflecting the diversity of tasks and the preferences of employees.
Market implications – vacancy, rents, capital values and stuff
In our pan-European analyses, we cover 44 major office markets in 23 different countries. The economic base case for our forecast is a relatively sharp but short recession in 2020, with a recovery in 2021-2022, which we should start to see signs of early next year. In the Nordic capital cities, this leads to a fall in office-based employment in both Helsinki and Oslo, while Copenhagen and Stockholm in fact will see a marginal increase in office jobs. Over the medium term we do expect that office employment growth will settle slightly below what we have seen in the past, but there is no drama surrounding this.
In terms of office demand, we do not expect that a material portion of this job creation will be countered by occupiers using significantly less space per employee or having certain employees working more or less permanently from home, and believe the downside risks surrounding this are limited.
When this is paired with our supply forecasts, office vacancy is forecasted to show material declines over the coming years in both Copenhagen and Oslo, while Helsinki is forecasted to move more sideways. This also translates to quite steep rental declines in 2020, which we already have seen in late Q1, and through Q2-Q3. In our 5-year prime rental forecast however, this translates to rental outperformance in both Copenhagen, Oslo and particularly Stockholm, while Helsinki rents are expected to slightly underperform versus the European average. In fact, the Stockholm prime market is forecasted to experience the strongest rental growth in Europe over the next five years, with 25 percent, while Oslo is just behind at 22 percent.
With interest rates having reached all-time record lows, prime yields are set for compression going forward, as investors recover from the COVID-19 related panic that paralyzed parts of the market in Q2. We are forecasting that cap rates for the best properties in Copenhagen, Helsinki and Oslo over the next five years will shrink to levels never seen before in these respective markets, while Stockholm is expected to move more sideways.
When these forecasts combine, we see that the forecasted capital value growth for prime offices in the Nordics on average will significantly outperform, with Oslo in fact forecasted to show the strongest capital value growth for prime offices in any major European office market. There are a few signs of this growth arriving quicker than our forecasts predict – through faster than expected yield compression, which in this context could lower the growth rates in the chart below – but as a significant part of the story is rental growth over the medium term, we are confident that the Nordic prime office markets overall will outperform over the medium term.
Figure 1: Forecasted capital value growth, prime offices, 2020-2025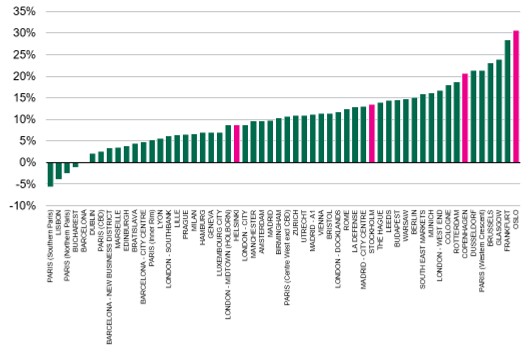 Source: CBRE Research
Please contact Einar if you have questions or if you would like to book a meeting with him and his research colleagues.