CBRE announced today that Robin Stenlund has joined its Sweden office as an advisor and specialist in Hotels. Robin's most recent position was at Newrest where he worked as CFO for Scandinavia. Prior to this, he held the role of investment manager and analyst in Hotel Real Estate Investments & Asset Management at Midstar AB.
In 2022, CBRE increased its focus on hotels in the Nordics with the aim to deliver strategic and operational advice, as well as tailored services. Erik Lee Myklebust, Head of Hotels Nordics, says:
"This hire further strengthens CBRE's Hotels team which means that we will be able to provide advice to a greater extent than before. We see that the uncertainty in the market, due to the macroeconomic environment, means that the need for expert advice and guidance has increased."

Robin will be based in Sweden, with the Capital Markets team. Patrik Kallenvret, Head of Capital Markets, Nordics, adds:
"We have world-leading industry knowledge from CBRE's team globally, and with Robin on site in Sweden, hotel clients throughout the Nordics can expect an even higher degree of tailored services. Services and transactions in the hospitality industry are very complex. In recent years, the hotel industry has seen that business models need to be updated and new strategies developed. We are now well equipped to help."

Robin Stenlund comments:
"I have worked with hotel advisory for many years, so I believe that my experience with analysis, investments and financing issues will help our clients make better decisions for the future. I am looking forward to an exciting and fun challenge and to work with the team in Sweden and the Nordics."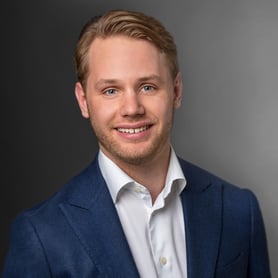 Robin Stenlund
Stay updated on the real estate industry in Sweden by following Sweden's Real Estate Blog (https://blog.cbre.se/sverigesfastighetsblogg) and our Nordic Nordics Real Estate Blog (https://www.nordicsrealestate.com/).


About CBRE Group, Inc.
CBRE Group, Inc. (NYSE:CBRE), a Fortune 500 and S&P 500 company headquartered in Dallas, is the world's largest commercial real estate services and investment firm (based on 2021 revenue). The company has more than 105,000 employees (excluding Turner & Townsend employees) serving clients in more than 100 countries. CBRE serves a diverse range of clients with an integrated suite of services, including facilities, transaction and project management; property management; investment management; appraisal and valuation; property leasing; strategic consulting; property sales; mortgage services and development services. Please visit our website at www.cbre.com.